L'arbre aux étoiles is meant to address workshops & seminars dedicated to wellness and healing, with the idea of know-how transmission along with behavioural skills :
Yoga, Qi Gong…
Personal development
Artistic creation
Positive education
Permaculture
Fasting and detox

Intuition
Communicating with animals
Meditation
Raw cuisine
Happiness at work
…
In this place of knowledge transfer, man enable different worlds to converge – Santé Yoga
---
---
After almost 20 years in finance and IT consulting in Paris, Maÿlis has decided to settle in her region, and launch a family and meaningful project. In parallel, she studies naturopathy and positive education.
Cyril has formelly worked as a freelance project manager for entertainment agencies or publicity agencies. He now focuses on developping l'arbre aux étoiles, which fulfills his wish for everyone finding his own nature. Also, he has been studying geobiology since 2013.
L'arbre aux étoiles is about giving sense to their professional competencies, by letting them serve eco-friendly purposes in a project that creates economic activity in a rural area, while promoting values of know-how transmission and sharing.
---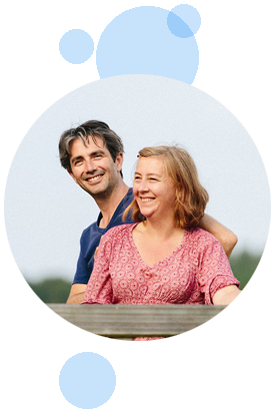 ---

---
Heaven and earth get sense here. Naturally, life.
Brigitte
Long live the beautiful soul of this place.
Avi
---
A wonderful place where trees and birds surround and caress the mind.
Maria Elena
Time has stopped for a few days here.
Katia